Turn-Key Vehicle Donation Programs
Benefits for You
Fast, Easy Launch Process
Launching your car program takes less than an hour, and we guide you every step of the way. Our programs are for organizations of any size, and we  accept all types of vehicles.
Free Nonprofit Registration
It's absolutely free to sign up with our vehicle donation programs. There are no upfront, ongoing, or hidden costs.  You're never locked into a long-term contract and you can cancel at any time.
Great Way to Fundraise
Supplement your current fundraising income by accepting vehicle donations. Our programs give your donors an additional way of supporting you, without extra staffing or overhead.
Increased Vehicle Proceeds
Our nationwide network of hundreds of vehicle liquidation vendors (public/private auctions, scrap dealers, recyclers, and more) can get you the most money for every donated vehicle.
Transparent Reporting
With every vehicle proceeds check we send you, we include all the specifics about that donation. We also send you regular reports, at the interval you request, that detail all vehicle and donor information.
Environmentally Friendly
Recycling vehicles saves energy, conserves natural resources, reduces air/water pollution and greenhouse gas emissions, and reuses environmentally sensitive substances.
How it Works
Marketing & Awareness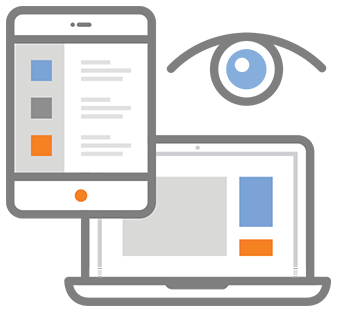 Mobile-Optimized Donation Page
Once registered, we create a branded vehicle donation page for your organization that allows your supporters to donate via an online form. We also create unique hyperlink web buttons for you to put on your website that directs donors to your custom vehicle donation page.
Raise Donor Awareness of Program
Through our years of experience advertising and marketing car programs, we are constantly developing and producing complimentary awareness-promoting marketing resources to help your organization get the word out to your donors about your new program.
24/7 Call Center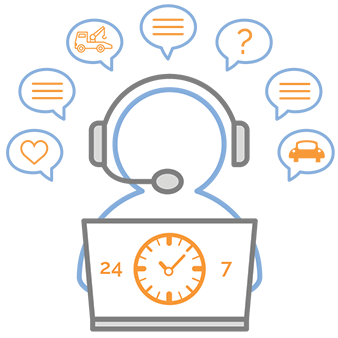 Positive Donor Giving Experiences
No matter the time of day nor the day of week, we are there for your donors before, during, and after their donation. We enable your phone system to sync with our call center through a voice prompt option and/or provide you with a dedicated phone number for your donors to call.
Any time a donor fills out the vehicle donation form on your branded page, our agents are alerted and get in touch with the donor right away to schedule the pickup.
You trust us to provide each and every donor the best giving experience and to be a good steward of your brand. We don't take that lightly. All donors are treated with the utmost importance.
Dispatch & Liquidation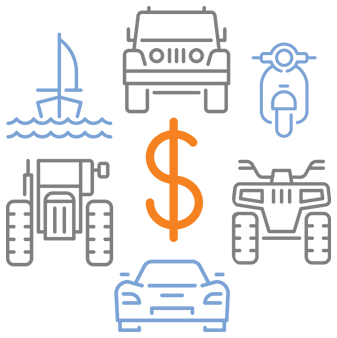 Types of Vehicles Accepted
Turn almost any type of vehicle into revenue – from everyday commuter vehicles, to boats and watercraft, to RVs and campers, to end-of-life fleet vehicles, and to specialty vehicles such as ATVs, motorized wheelchairs, riding lawn mowers, and farm equipment to name a few.
Vehicle Pickup in All 50 States
We offer nationwide vehicle pickup – yes, Hawaii and Alaska, too! Most vehicles are scheduled for pickup within 24-48 hours, although often we can accommodate rush pickup timeframes – sometimes even same day. Regardless of when we pick up the donor's vehicle, towing is always free for the donor.
Maximize Revenue
We pride ourselves on getting your organization the most money per vehicle. Every donation is triaged by an experienced individual first and then sent to the vendor that will realize the most money for the vehicle. This is not common practice in the industry.
Oftentimes, companies will send the majority of vehicle donations to just one type of vendor – be that dealer auctions or salvage vendors. Treating car donations in this manner can have a direct negative impact on the per car proceeds that a nonprofit may receive.
Tax Paperwork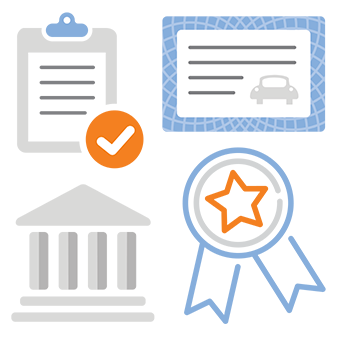 We Handle All Tax Reporting
We create and distribute all donor paperwork. This includes the tow receipt, official thank you letters, and the IRS form 1098c. In addition, we submit and file your annual IRS review regarding vehicle donations on your behalf.
In-House Title Department
Our title clerks are able to handle any and all title-related questions. From liens to lost titles to probate procedures, rest assured we can handle and provide a solution to your donor's title concerns. In addition, we are able to efficiently transfer all vehicle titles through our dealer's license – eliminating any liability for your organization.
Verified Professional Fundraiser
As a professional fundraiser, we file all state registrations with respect to charitable solicitations. In other words, any state where we solicit vehicle donations on your behalf, we file a registration with that state.
Fundraising regulations vary widely from state to state, however we have a fantastic team dedicated just to state registrations.
Proceeds & Reporting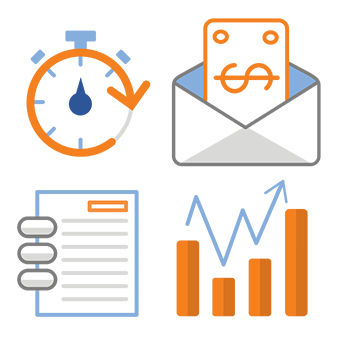 Fast Check Processing
On average, the entire vehicle donation cycle takes approximately 3-6 weeks – from the first contact by the donor to the time you receive the proceeds check. Proceeds checks are mailed weekly (every Friday) and include a detailed report regarding the specifics of that donated vehicle.
Simple Processing Fee
Our fee structure is simple and affordable. Your organization will never be invoiced. Instead, we deduct a small, flat processing fee from the after auction net proceeds and mail 100% of the remainder of the proceeds to your organization.
Comprehensive Reporting
On a schedule of your choosing, we provide meticulous donation reports, sold reports, and donor reports.
Learn how many vehicles were donated to you in any given timeframe, see all the stats related to every vehicle sold, and easily add each vehicle donor's contact information into your CRM for future initiatives or just to personally thank the donor again.
Benefits to your Donors
Donation Process is Easy
Donating a vehicle is as simple as just a phone call or the click of a mouse away! Once a donor gets in contact with us, we outline the whole vehicle donation process so they know what to expect and when. Then, we take care of the rest.
Top Tax Deductions
As we routinely get more money per vehicle than the competition, it's easy to understand how we can deliver your donors top tax deductions. In addition, we create and distribute all donor tax paperwork, on your behalf.
New Way to Show Support
For those donors who can't donate their time or money, giving them the option to donate a vehicle is worth considering. You may find that the proceeds of a vehicle donation can far exceed what a donor has monetarily given in the past.
Removes Unwanted Vehicles
It can be surprising just how many people have an old or unused vehicle laying idle on their property. With a vehicle donation, your donors can get rid of those eyesores hassle-free.
Free Pickup & Towing
It costs the donor nothing to donate their vehicle to your organization. A scrap yard will charge a person take their vehicle away. We can pick up that same car for free.
Many Vehicle Types Accepted
Cars, trucks, vans, SUVs, boats, RVs, motorcycles, and more can be donated to your organization. Whether it needs extensive repairs or is in perfect condition, we can take it!
Curious what the car donation process looks like from your donor's point of view?